Trusted By Thousands of Organizations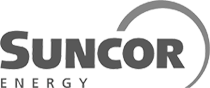 H2S SAFETY TRAINING
This H2S Training Program is ideal for individuals who require H2S Training as a pre-requisite to employment and for businesses that require a simple and accessible solution for training their employees. H2S Training is required in many industries including oil & gas, water treatment and seismic.
This Online H2S Training Course will guide you through all aspects of H2S including: H2S Hazards, industrial applications, natural occurrence, worker and employer responsibilities, assessing H2S hazards, how to detect H2S, health effects of H2S exposure, hazard controls, personal protective equipment, treatment, and rescue procedures.  This course will explain in detail what you need to know to remain safe around H2S, emphasize key points and test your knowledge retention after each module.
This training program is intended to be completed entirely online. Depending on your duties or workplace hazards, hands-on equipment training such as mask fit testing and bump testing with specific equipment, or site-specific training such as evacuation and emergency response procedures for your workplace may be required. Please contact us for more information or to arrange supplementary or hands-on training.
Inquire About Supplementary / On-Site Training
This course consists of 8 chapters and a final exam. Once you pass your exam, you may print your certificates of completion (wallet & wall sized). Training may be paused or resumed at any time, is fully narrated, and includes interactive exercises to ensure understanding of course content.
*This certificate is valid for 3 years. Individuals or employers may use their best judgment to set their own expiration period.
| | |
| --- | --- |
| | Average Duration: 3 Hours |
| | Printable Certificate Upon Completion |
| | Plastic Proof Of Training Card Available |
| | Unlimited Exam Attempts |
| | Standards Compliant |
| | Valid for 3 Years* |
| | Self-Paced. Available 24/7 |
| | Live Student Support |
| | Permanent Record of Training |
| | User Management Tools Available |
Course Outline
1.
Hydrogen Sulfide Safety
Chapter one introduces the hazards associated with H2S, learning objectives for the course, where H2S occurs naturally. This chapter also covers how H2S Gas is produced and used in industries and applications such as oil and gas, food processing, coke ovens, pulp and paper, wastewater treatment, tanneries, construction, sulfur production and more.
2.
Employer & Employee Responsibilities
Learn about the responsibilities of workers and employers when working around H2S, or where H2S may be a hazard. This includes training, procedures, incident reporting, and personal protective equipment.
3.
Hazard Assessments
This chapter will cover the hazards of H2S, workplace codes of practice, components of workplace codes of practice, and employer responsibilities for the code of practice.
4.
Detection of H2S
Learn how to detect H2S, common reactions, H2S detection equipment, limitations of personal gas detectors, H2S monitoring, calibration of detection equipment, bump testing of direct reading devices, calibration schedules, calibration drift, and critical H2S tasks.
5.
Health Effects of H2S
Learn about occupational exposure limits, provincial OELS, the enforcement of 2010 ACGIH TLVs, health effects of short term exposure to H2S, and the effects of long term H2S exposure.
6.
H2S Hazard Controls
The chapter on hazard controls teaches students how to limit the dangers of H2S through preventative measures, engineering controls, administrative controls, and personal protective equipment.
7.
H2S Personal Protective Equipment (PPE)
Learn about the PPE that can be used to protect against the hazards of Hydrogen Sulfide. This chapter covers skin protection, eye and face protection, respiratory equipment, use of a self-contained breathing apparatus, use of a supplied-air breathing apparatus, types of SCBA and SABAs, NIOSH requirements, the use of air-purifying respirators at lower exposure limits, how to select the right respiratory equipment, how to inspect your respiratory equipment, fit testing, equipment maintenance, employer responsibilities, and how to read PPE Symbols on H2S products.
8.
Treatment of H2S Exposure
This chapter covers personal safety strategies, rescue procedures in an H2S environment, responding to an H2S incident, emergency response team protocol, rescue techniques, first aid, and how to assist emergency medical services.
Bulk Discounts. Free Tools.
Depending on how many training credits you purchase, you may receive a discount. Once purchased, training credits may be used to assign training to users in your account or held for future use.
In addition to the training that you purchase, you will also have access to a number of free training management tools. These tools allow you to add and manage users in your account, distribute training courses, view training progress, print certificates, view records of training, and create customized certification reports to ensure your users are always in compliance.
Learn More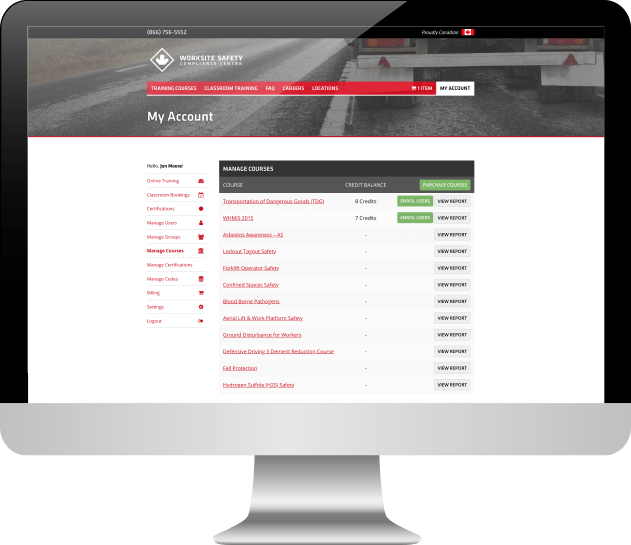 Additional Services
We put our team of professionals to work to build solutions that improve results, save time, relieve your budget and keep your people safe. In addition to our training programs, we also provide Consulting Services, Train The Trainer Solutions, Course Authoring, and Integration services.
Consulting Services
It is our mandate to develop plans and programs that meet the unique needs and environments where staff carry out their work on a daily basis, creating customized programs that deal with risks specifically for each situation.
Our consulting services include OHS Auditing, Safety Policy Development, Procedure Writing, Training Needs Analysis, Safety Inspections, Job Safety & Hazard Analysis, Emergency Response Planning, and Fall Prevention & Detection.
Learn More
Train the Trainer
Customize and control the learning experience of your staff or customers with our Train the Trainer offerings and enjoy the peace of mind that comes with our lifetime complimentary update service.
These packages educate new trainers on how to deliver in-person training to adult learners. Packages include Instructor Certification courses, expanded reference manuals, ready to customize classroom presentations, exam templates, certificates, and participant guides for students.
Learn More
Program Authoring
Deliver original content courses to your staff to address the unique hazards associated with your workplace.
Our team of industry leading instructional designers and subject matter experts are able to develop defensible, effective, and efficient training programs that you can deliver as elearning content, self-learning course books, reference materials for classroom teaching, or as an app that integrates with existing frameworks. Training programs can be something that is built from scratch, or modified using pre-existing course materials from our library or your own.