Trusted By Thousands of Organizations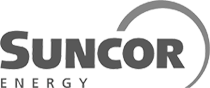 Elevating Work Platform Training
Any person operating an aerial lift for aerial work platform is required to be trained on the safe use of the equipment, as well as any associated hazards. This course focuses on Type 3a and 3b lifts, which are commonly referred to as Scissor Lifts and Boom Lifts.
Worksite Safety's Aerial Lifts & Aerial Work Platforms Certification program has been developed in accordance with federal and provincial legislation as safety training for workplaces across Canada. This course consists of 10 chapters and a final exam. Once you pass your exam, you may print your certificates of completion (wallet & wall sized).
This course can be paused and resumed at your leisure, the exam has unlimited attempts to be passed, and a permanent record of training will be kept. This course covers topics such as the division of responsibilities, personal protective equipment, fall protection considerations, the different types of aerial lifts, operating procedures, associated hazards, and safe work practices.
Additional training may be required for the specific equipment you will be operating.  This training is typically provided by the employer and must be delivered by a competent and qualified person.
This training program is intended to be completed entirely online. Depending on your duties or workplace hazards, equipment training such as operator training, or site-specific training such as overhead hazards may be required. Please contact us for more information or to arrange supplementary or hands-on training.
Inquire About Supplementary / On-Site Training
| | |
| --- | --- |
| | Average Duration: 1.5 Hours |
| | Printable Certificate Upon Completion |
| | Plastic Proof of Training Card Available |
| | Unlimited Exam Attempts |
| | Standards Compliant |
| | Valid for 5 Years |
| | Self-Paced. Available 24/7 |
| | Live Student Support |
| | Permanent Record of Training |
| | User Management Tools Available |
Course Outline
1.
Mobile Elevating Work Platforms
Chapter one will cover your learning objectives, the different types of aerial lifts, industry recognized best practices, compliance requirements, applicable legislation, demonstration of proficiency, and operator competency requirements.
2.
Training Requirements
Learn about what training is required before using a Mobile Elevated Work Platform, certificates, practical training & familiarization, & staying up to date.
3.
Elevated Work Platform Basics
Chapter 3 covers MEWP classifications, scissor lifts, boom lifts, articulating and telescoping lift mechanisms, orientation arrows, manuals, decals, capacity ratings, capacity for multiple people, and safety devices.
4.
Aerial Lift Hazards
This chapter goes over common hazards associated with mobile elevating work platforms. This lesson includes hazard assessment, fall hazards, collision hazards, weather hazards, and the hierarchy of hazard controls.
5.
Stability & Tipping
Learn about stability & tipping. This includes raising a scissor lift, lowering a boom lift, driving on a slope, and driving through rough terrain.
6.
Fall Protection
In the fall protection lesson, you will learn about the types of fall protection, MEWP fall protection regulations, guardrails, travel restraint systems, harnesses, lanyards, connectors, anchors, and anchorage points.
7.
Inspection Requirements
This chapter goes over the inspection requirements for mobile elevating work platforms, types of inspections, record keeping, required PPE, and what to do when you encounter a problem.
8.
Visual Inspection
The visual inspections lesson covers the manual, decals, capacity plate, tires, frame, floor, ladder, anchorage points, outriggers & stabilizers, and other critical components.
9.
Operational Inspection
In this chapter you will learn the basics of operational inspections including: ground controls, horns, platform controls, dead man switch, driving, steering, and motion alarms, safety features, and the emergency stop.
10.
Safe Operating Practices
This chapter covers preparing to use a MEWP, using outriggers, raising the platform, traveling, working on a slope, loading & unloading, shutdown, and emergency procedures.
Bulk Discounts. Free Tools.
Depending on how many training credits you purchase, you may receive a discount. Once purchased, training credits may be used to assign training to users in your account or held for future use.
In addition to the training that you purchase, you will also have access to a number of free training management tools. These tools allow you to add and manage users in your account, distribute training courses, view training progress, print certificates, view records of training, and create customized certification reports to ensure your users are always in compliance.
Learn More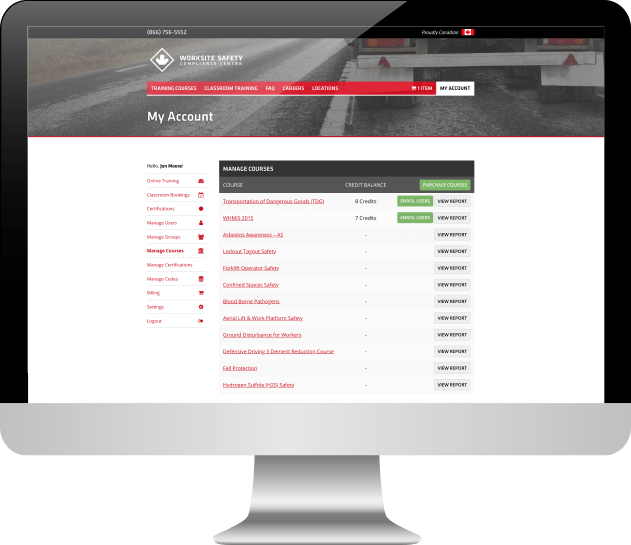 Additional Services
We put our team of professionals to work to build solutions that improve results, save time, relieve your budget and keep your people safe. In addition to our training programs, we also provide Consulting Services, Train The Trainer Solutions, Course Authoring, and Integration services.
Consulting Services
It is our mandate to develop plans and programs that meet the unique needs and environments where staff carry out their work on a daily basis, creating customized programs that deal with risks specifically for each situation.
Our consulting services include OHS Auditing, Safety Policy Development, Procedure Writing, Training Needs Analysis, Safety Inspections, Job Safety & Hazard Analysis, Emergency Response Planning, and Fall Prevention & Detection.
Learn More
Train the Trainer
Customize and control the learning experience of your staff or customers with our Train the Trainer offerings and enjoy the peace of mind that comes with our lifetime complimentary update service.
These packages educate new trainers on how to deliver in-person training to adult learners. Packages include Instructor Certification courses, expanded reference manuals, ready to customize classroom presentations, exam templates, certificates, and participant guides for students.
Learn More
Program Authoring
Deliver original content courses to your staff to address the unique hazards associated with your workplace.
Our team of industry leading instructional designers and subject matter experts are able to develop defensible, effective, and efficient training programs that you can deliver as elearning content, self-learning course books, reference materials for classroom teaching, or as an app that integrates with existing frameworks. Training programs can be something that is built from scratch, or modified using pre-existing course materials from our library or your own.