Trusted By Thousands of Organizations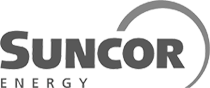 Online Fire Safety Certification
This Online Fire Safety & Extinguishers Course will guide you through all aspects of Fire Safety & Extinguishers including: hazard identification, fire facts, prevention, protection, preparation, extinguisher types & use, and emergency response.
Upon completion of this course, learners will be better prepared to prevent fires, and respond appropriately in case of a fire.  Students will also be trained on what to do proactively to eliminate fire hazards in the workplace and how to extinguish fires or react in case of an emergency. Upon completion of the final exam, students will be issued a printable certificate as proof of training. A plastic wallet card may also be ordered.
After completion of this course, you should be able to understand:
How to identify fire hazards in the workplace
How fires are started and how to identify the types of different fires
How to prevent workplace fires from starting
How to protect yourself and your workplace or property from fires
How to prepare for a fire
How to identify the correct means of extinguishing a fire
Fire extinguisher use and the PASS system
How to respond in a fire emergency situation
*This certificate is valid for 3 years. Individuals or employers may use their best judgment to set their own expiration period.
| | |
| --- | --- |
| | Average Duration: 1.5 Hours |
| | Printable Certificate Upon Completion |
| | Plastic Proof Of Training Card Available |
| | Unlimited Exam Attempts |
| | Accepted Across Canada |
| | Valid for 3 Years* |
| | Self-Paced. Available 24/7 |
| | Live Student Support |
| | Permanent Record of Training |
| | User Management Tools Available |
Course Outline
1.
Hazard Identification
Module one covers an introduction to fire safety as well as how to identify fire hazards in the workplace. This includes the PEME system (people, equipment, materials, and environment), the employee right to know, communication, and what to do when conditions change.
2.
Fire Facts
The module on fire facts includes lessons on the fire tetrahedron, explosions, properties of fires, safety data sheets, material states, flashpoints, explosive limits, smoke, and fire classes.
3.
Fire Prevention
The fire prevention module teaches students about practical ways to prevent fires in the workplace. This module also covers human error, smoking, electrical failures, housekeeping, flammable liquids, access and egress, combustible dusts, heaters, hot work, and arson,
4.
Fire Protection
Module 4 covers the subject of fire protection. This includes: national codes, provincial codes, municipal codes, local fire officials, property owners and occupants, life safety code, standards, passive/active fire protection, detection devices, manual pull stations, alarms, control panels, means of egress, fire safe construction, fire suppression, and working together.
5.
Preparation
The lesson on fire preparation includes: Legislation, fire safety plans, contact information, site drawings, fire department access, emergency procedures, flammables & combustibles, control of fire hazards, training, fire drills, maintenance requirements, alternative measures, construction sites, plan reviews, and posting locations.
6.
Fire Extinguishers & Emergency Response
The emergency response module covers: emergency procedures, fire alarms, fire discovery, evacuation, elevator use, fighting fires, extinguishing agents, portable fire extinguishers (markings, features, and PASS steps), sprinklers, hose stations, kitchen supression systems, sand, fire blankets, and stop, drop, roll.
Bulk Discounts. Free Tools.
Depending on how many training credits you purchase, you may receive a discount. Once purchased, training credits may be used to assign training to users in your account or held for future use.
In addition to the training that you purchase, you will also have access to a number of free training management tools. These tools allow you to add and manage users in your account, distribute training courses, view training progress, print certificates, view records of training, and create customized certification reports to ensure your users are always in compliance.
Learn More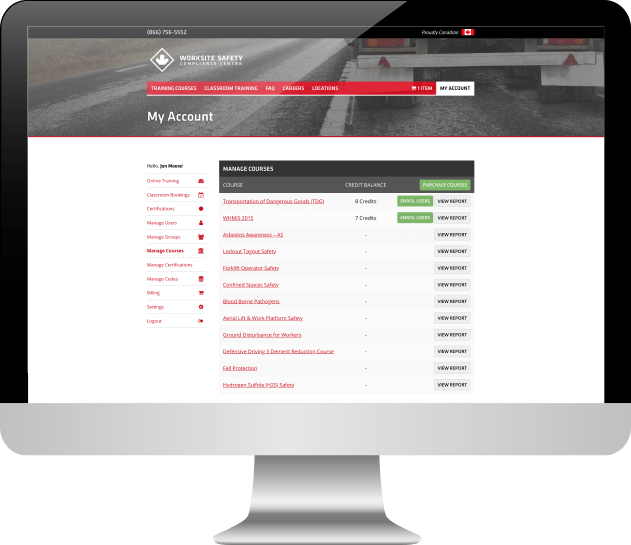 Additional Services
We can create custom solutions that improve results, save time, relieve your budget and keep your people safe. In addition to our training programs, we also provide Consulting Services, Train The Trainer Solutions, Course Authoring, and Integration services.
Consulting Services
It is our mandate to develop plans and programs that meet the unique needs and environments where staff carry out their work on a daily basis, creating customized programs that deal with risks specifically for each situation.
Our consulting services include OHS Auditing, Safety Policy Development, Procedure Writing, Training Needs Analysis, Safety Inspections, Job Safety & Hazard Analysis, Emergency Response Planning, and Fall Prevention & Detection.
Learn More
Train the Trainer
Customize and control the learning experience of your staff or customers with our Train the Trainer offerings and enjoy the peace of mind that comes with our lifetime complimentary update service.
These packages educate new trainers on how to deliver in-person training to adult learners. Packages include Instructor Certification courses, expanded reference manuals, ready to customize classroom presentations, exam templates, certificates, and participant guides for students.
Learn More
Program Authoring
Deliver original content courses to your staff to address the unique hazards associated with your workplace.
Our team of industry leading instructional designers and subject matter experts are able to develop defensible, effective, and efficient training programs that you can deliver as elearning content, self-learning course books, reference materials for classroom teaching, or as an app that integrates with existing frameworks. Training programs can be something that is built from scratch, or modified using pre-existing course materials from our library or your own.