Trusted By Thousands of Organizations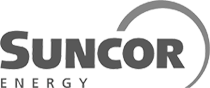 Electrical Safety: Arc Flash & Shock
This Electrical Safety: Arc Flash & Shock program is for anyone working near high voltage electrical hazards. Training content is based on the Canadian Standards Association's Z462-21 (2021 Standard) "Workplace Electrical Safety" as well as NFPA 70E "Standard for Electrical Safety in the Workplace".
This program will take about 4 hours to complete. It contains six chapters and a final exam. Training is fully narrated and includes interactive activities and knowledge assessments throughout each chapter that will help to prepare you for the final exam. Once you have completed the final exam, you will be issued a wallet-sized certificate of completion as well as an 8.5″ x 11″ wall diploma as a record of training.
Your certificate may be used electronically or printed. You must sign your certificate before use. Your certificate is valid for three years, after which time refresher training will be required. A plastic wallet certificate is also included with your purchase. Your plastic wallet card typically ships within one day using Canada Post regular mail.
This program includes re-usable forms and reference tables that you are encouraged to download or print. If you lose these materials, you can access them at any time from within your account.
This training program is entirely online and self-paced. Please get in touch with our Advisory Services team if you would like to receive additional training for electrical safety hazards or related equipment training such as:
Our Advisory Services team can also assist in developing an Electrical Safety Program for your workplace or reviewing your existing programs and policies to identify any deficiencies.
| | |
| --- | --- |
| | Average Duration: 4 Hours |
| | Certificate Valid for 3 Years |
| | Printable Certificate Upon Completion |
| | Plastic Proof Of Training Card Available |
| | Unlimited Exam Attempts |
| | Standards: CSA Z462-21 & NFPA 70E |
| | Self-Paced. Available 24/7 |
| | Live Student Support |
| | Prerequisites Required: None |
| | Group Management Tools Available |
Course Outline
1.
Introduction
The introduction module introduces students to the tools used within this training program, and what sort of activities to expect. This portion of the training also outlines the learning objectives for the 6 following chapters. (5 Minutes)
2.
Basics of Electrical Safety
Chapter 1 introduces students to the basics of electrical safety. Upon completion of this chapter, students will be able to: explain how electricity works; define basic electrical terms and concepts; identify common sources of electricity; Identify common electrical hazards in the workplace; describe the injuries caused by electrical incidents; and list common methods used to control electrical hazards in the workplace. (25 Minutes)
3.
Legislation and Consensus-Based Standards
Chapter 2  will help you to understand the roles and legal responsibilities of workers, supervisors, and employers when it comes to OHS legislation in Canada. This module also focuses on key elements of the CSA Z462 and NFPA 70E standards. (30 Minutes)
4.
Identifying Electrical Hazards
Chapter 3 describes potential electrical hazards and explains how to work safely around them. By the end of this chapter students will be able to: Define an electrical hazard; Recognize normal conditions and abnormal conditions; Describe step and touch potential hazards; List the requirements for working safely around power lines; Describe a conductive work location; Identify electrical hazards like shock, arc flash, and arc blast; And describe injuries and health effects caused by shock, arc flash, and arc blast. (30 Minutes)
5.
Controlling Electrical Hazards
Chapter 4 explains how electrical hazards in the workplace can be controlled. Students will learn to: Outline the hierarchy of controls as stated in CSA Z462; Explain the importance of de-energizing electrical equipment; Definean "electrically safe work condition"; Identify common elements found in electrical safety programs; Explain how protective devices can control electrical hazards; Recall requirements for lockout/tagout procedures; Describe electrical specific PPE, tools, and equipment; And review requirements for preventative maintenance. (30 Minutes)
6.
Job Planning & Risk Assessment
Chapter 5 walks students through the process of working and planning around conditions where de-energizing may not be the best choice. Students will learn about electrical hazards, like shock and arc flash, and review the risk assessments that apply to them.  By the end of this chapter students will be able to: Define the terms "hazard" and "risk"; Identify the steps in the job planning process; Outline the Plan-Do-Check-Act (PDCA) cycle; Review the information to be documented on an energized electrical work permit prior to working live; Identify the risk assessment steps for shock hazards; Identify the risk assessment steps for arc flash/blast hazards; Describe methods used to select hazard-appropriate PPE; And explain the care and maintenance of electrical specific PPE. (45 Minutes)
7.
Emergency Response & Incident Reporting
Chapter 6 describes how to prepare for an emergency. By the end of this chapter, students will be able to: Describe and electrical safety program as part of an OHSMS; List the key elements of an OHSMS; Review the components of an emergency response plan; Describe the steps in an emergency response plan; Define the terms "incident" and "accident"; Explain the purpose of incident and accident investigations; Explain regulatory reporting requirements; And review the steps in the reporting process. (35 Minutes)
Bulk Discounts. Free Tools.
Depending on how many training credits you purchase, you may receive a discount. Once purchased, training credits may be used to assign training to users in your account or held for future use.
In addition to the training that you purchase, you will also have access to a number of free training management tools. These tools allow you to add and manage users in your account, distribute training courses, view training progress, print certificates, view records of training, and create customized certification reports to ensure your users are always in compliance.
Learn More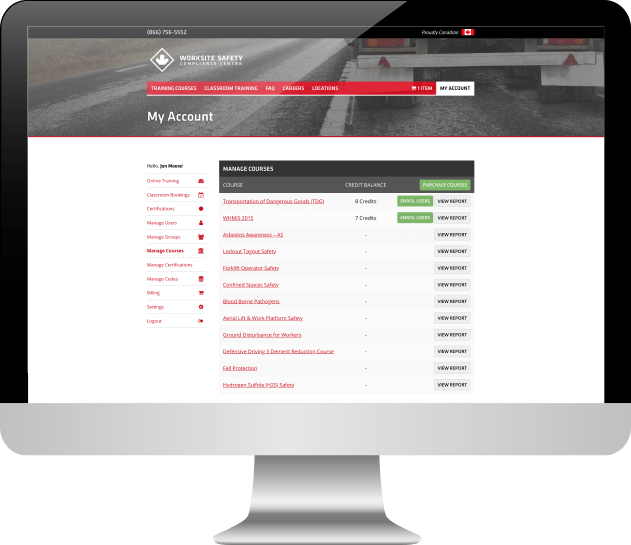 Additional Services
We put our team of professionals to work to build solutions that improve results, save time, relieve your budget and keep your people safe. In addition to our training programs, we also provide Consulting Services, Train The Trainer Solutions, Course Authoring, and Integration services.
Consulting Services
It is our mandate to develop plans and programs that meet the unique needs and environments where staff carry out their work on a daily basis, creating customized programs that deal with risks specifically for each situation.
Our consulting services include OHS Auditing, Safety Policy Development, Procedure Writing, Training Needs Analysis, Safety Inspections, Job Safety & Hazard Analysis, Emergency Response Planning, and Fall Prevention & Detection.
Train the Trainer
Customize and control the learning experience of your staff or customers with our Train the Trainer offerings and enjoy the peace of mind that comes with our lifetime complimentary update service.
These packages educate new trainers on how to deliver in-person training to adult learners. Packages include Instructor Certification courses, expanded reference manuals, ready to customize classroom presentations, exam templates, certificates, and participant guides for students.
Program Authoring
Deliver original content courses to your staff to address the unique hazards associated with your workplace.
Our team of industry leading instructional designers and subject matter experts are able to develop defensible, effective, and efficient training programs that you can deliver as elearning content, self-learning course books, reference materials for classroom teaching, or as an app that integrates with existing frameworks. Training programs can be something that is built from scratch, or modified using pre-existing course materials from our library or your own.