Trusted By Thousands of Organizations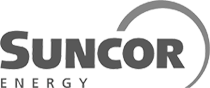 Training Overview
This CPO Approved Joint Health and Safety Training Certification Part 1 course is the first step toward individual certification for a Joint Health and Safety Committee (JHSC) member, which is required under section 9 of the Ontario Occupational Health and Safety Act (OHSA).
The Occupational Health and Safety Act requires that at least two members of the committee (one representing the workers and one representing the management team) be certified.
Course Details:
In order to be certified, learners must complete the Joint Health and Safety Committee certification training Parts 1 and 2. Part 2 must be completed within twelve months of completion of Part 1.
This online, self-paced eLearning course contains all knowledge required to pass the JHSC Part 1 Exam at the end of the course, as well as a wide variety of practical scenarios for trainees to learn from. Worksite Safety also offers a 3 Day Instructor-Led Online Course as well as a variety of other in-class options.
Students will receive a copy of the Ontario Green Book. Shipping time within Ontario is typically 1-3 business days.
Upon the successful completion of the Joint Health and Safety Committee certification training, learners will have the knowledge and skills needed to fulfill the legislated duties of a JHSC certified member and to support the workplace parties in understanding their roles as part of the Internal Responsibility System in preventing occupational injuries and illnesses.
JHSC Part 1 Online training must be completed within 30 days from the time the first lesson is started. If training is not completed within 30 days, your training progress will be reset, and you will be free to start the course again at no additional cost.
How many people are required to be on a JHSC?
1 – 5 Employees? You are not required to have a JHSC unless a designated substance regulation applies to your workplace.
6 – 19 Employees? You are required to have one health and safety representative who is selected by the workers they represent. If a designated substance regulation applies to your workplace, you are required to have a JHSC.
20 – 49 Employees? You are required to have at least 2 JHSC members.
50+ Employees? You are required to have at least 4 JHSC members.
Upon completion of the JHSC certification training Part One, participants will be able to:
Describe the certification process and explain the role of the Joint Health and Safety Committee certified member.
Describe the importance of occupational health and safety and outline the roles of each of the workplace parties.
Identify occupational health and safety legislation, demonstrate how to access information from it, and explain the basic rights, responsibilities, and training requirements.
Describe the purpose, legal requirements for, and rights, duties, and function of JHSCs and describe how a functioning JHSC works.
Describe the categories of hazards and the basic process of recognizing, assessing, and controlling hazards, and evaluating the hazard control
Practice hazard recognition, assessment, and control, and evaluation of the hazard controls.
State the requirements for, and describe the processes for, reporting and investigating fatalities, critical injuries, work refusals, and complaints of dangerous circumstances.
Review and understand the legislative requirements for access to occupational health and safety information and demonstrate how to access typical sources of OH&S information.
| | |
| --- | --- |
| | CPO Approved, Program ID JHSC-36351 |
| | Average Duration: 13 Hours |
| | Digital & Printable Certificate |
| | Plastic Proof Of Training Card Included |
| | Unlimited Exam Attempts |
| | Self-Paced. Available 24/7 |
| | Available on All Major Devices |
| | Live Student Support |
| | Permanent Record of Training |
| | User Management Tools Available |
| | Purchased Training Credits Never Expire from Account |
Course Outline
1.
Introduction
This module introduces trainees to the course, its features, tools, and gives a brief breakdown of the course contents and timing.
2.
Joint Health and Safety Committees
This module begins the course and defines the Internal Responsibility System (IRS) and the basic functions of JHSCs.
3.
The Occupational Health and Safety Act (OHSA)
The second module outlines The Occupational Health and Safety Act and supporting documentation for the Act.
4.
Complying With the OHSA
Module 3 details worker, employer, and other workplace parties' duties under the OHSA. This includes the rights of workers and enforcement of the OHSA.
5.
Effective JHSCs
The fourth module explores how effective JHSCs function and some of the legal requirements of JHSCs and their members. It contains a variety of activities and scenarios for trainees to learn from.
6.
Understanding Hazards
Module 5 covers the different categories of hazards in the workplace, how JHSC members play their part in identifying and understanding the risks these pose, and how PEMEP factors contribute to these hazards.
7.
Dealing With Hazards
This module deals with recognizing, assessing, and controlling hazards, and then evaluating those controls (the RACE method).
8.
Inspections and Investigations
Module 7 details workplace inspections including their purpose, legal requirements, how to conduct one and how to report one. It then details the investigation process resulting from work disruptions and injuries.
9.
Resources and Consultants
The eighth module describes the right to information under the OHSA. It also lists occupational health and safety resources and how to access them as a member of the JHSC.
10.
Simulations
Module 9 is composed entirely of simulated practice scenarios. The trainee uses their knowledge to go about common JHSC tasks surrounding hazards, inspections, investigations, and group problem solving required by Committees.
Bulk Discounts. Free Tools.
Depending on how many training credits you purchase, you may receive a discount. Once purchased, training credits may be used to assign training to users in your account or held for future use.
In addition to the training that you purchase, you will also have access to a number of free training management tools. These tools allow you to add and manage users in your account, distribute training courses, view training progress, print certificates, view records of training, and create customized certification reports to ensure your users are always in compliance.
Learn More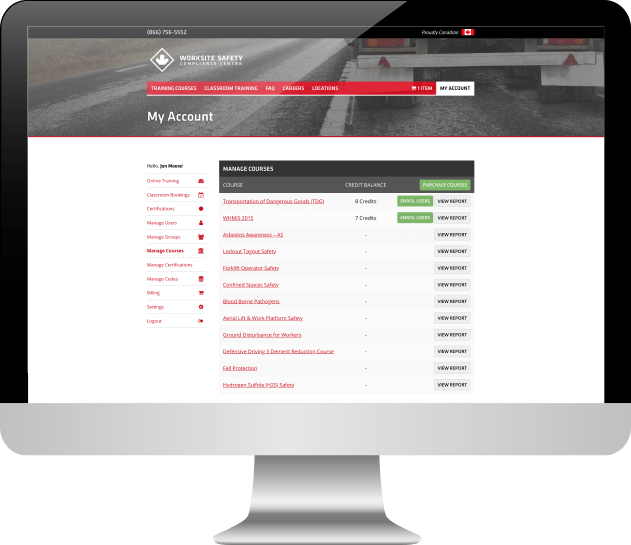 Additional Services
We put our team of professionals to work to build solutions that improve results, save time, relieve your budget and keep your people safe. In addition to our training programs, we also provide Consulting Services, Train The Trainer Solutions, Course Authoring, and Integration services.