Training Overview
This Standard First Aid / CPR Level C certification is delivered in partnership with the Canadian Red Cross.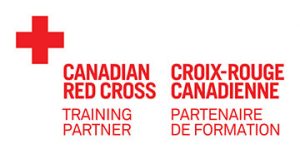 Training consists of a comprehensive two-day course, covering first aid, cardiopulmonary resuscitation (CPR) for adults, children and infants, and the proper use of AEDs.
This course meets the requirements for Provincial/Territorial worker safety, Insurance Boards, and includes the most up-to-date First Aid and CPR Guidelines.
Each student will also be provided their own adult and infant manikins, and AED trainer. Students will not be required to share this equipment during training.
Booking Process:
Add the on-site product to your cart by clicking the "Add to Cart button".
You will then be asked to fill out your billing information before completing your booking and payment.
Once processed, you will fill automatically receive a receipt and confirmation for your booking reservation.
You will then be contacted by a Worksite Safety Compliance Centre Booking Representative to confirm the details for your preferred training location, and any additional travel fees if your location is outside of our service area. You may also organize up to two additional students for an additional fee.
A minimum quantity of 10 seats must be purchased for on-site training. If you have more than 12 attendees, contact us for pricing and availability.
Course Details:
In order to become certified, learners must complete the two-day in-class course, achieve a minimum of 75% on the final test, and participate in 100% of the courses theory and hands-on lessons.
Once training is completed, learners will have the knowledge and skills needed to provide medical care in emergency situations, provide CPR to adults, children, and infants, and be able to identify when and how to use an AED.
Upon successfully finishing the Red Cross Standard First Aid / CPR C certification training, participants will be able to:
Understand the history and purpose of the Red Cross.
Know how to be prepared for emergency situations.
Understand the EMS Systems.
Be able to properly use the CCC Method. (Check, Call, Care)
Identify and apply first aid to Airway, Breathing, and Circulation Emergencies.
Identify and apply first aid to Cardiac Arrest emergencies.
Identify and apply first aid to Head, Neck, and Spinal Injuries.
Identify and apply first aid to Bone, Muscle, and Joint Injuries.
Provide emergency Wound Care.
Know the proper procedures for sudden medical emergencies.
Know how to provide care and stay safe during Environmental Illnesses.
Understand the procedures in case of contact with, or the ingestion of, poison.
Course Running Time: 8:30am - 4:30pm (2 Days)
Location: Your Workplace or Training Space Near You
| | |
| --- | --- |
| | Red Cross Worksite Safety is a Red Cross Training Partner |
| | On-site Training This on-site training requires a flat rate payment of $2590 for up to 10 trainees. Contact us to organize additional trainees. |
| | Certificate Issued 3-year certification in Standard First Aid, CPR Level C, and AED |
| | Materials Provided Course materials, workbooks, a Standard First Aid Guidebook and a writing utensil will be provided. |
| | Breaks & Lunch There are a couple of 10-min breaks, as well as a 30-min lunch. Please plan for your own lunch. |
| | No Charge Cancellation If for any reason you cannot attend your training class that you have booked, you can contact us at least 5 business days prior to your class for a full refund or to reschedule. |
Service Area